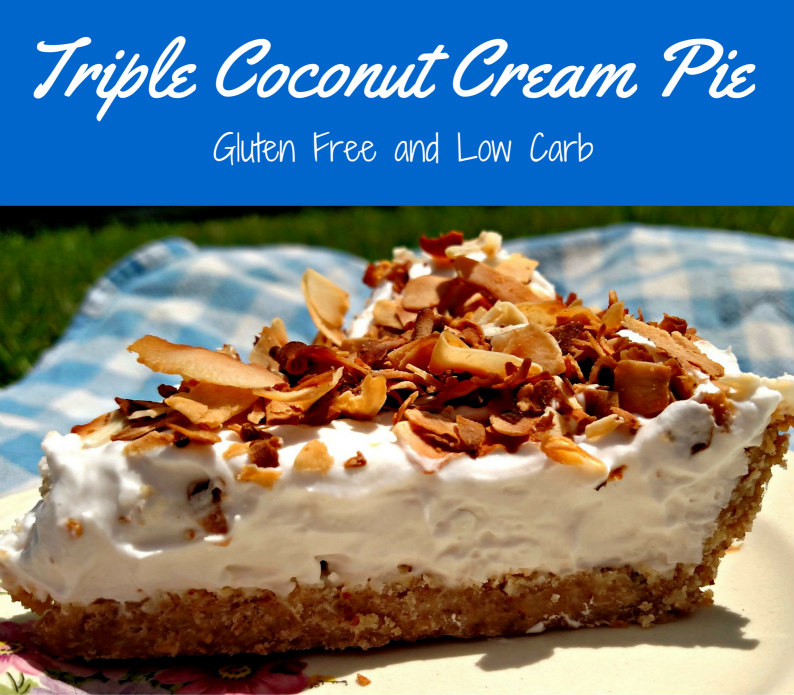 Creamy Low Carb Coconut Pie, Yum!
I believe there are two camps of people in the world. Those who like coconut, and those who can't stand it. I happen to be in the I-couldn't-live-without-coconut camp. My low carb coconut pie has triple the coconut goodness that will make any coconut lover swoon.
I love to bake, but I'm not always one for spending a bunch of time on an everyday recipe. I think that's why lately I've been turning to icebox pies, like my strawberry cream pie I made a few weeks ago.
This low carb coconut pie is an easy, no bake summer dessert. I wanted a coconut cream pie that was cool and creamy chocked full of coconut. This pie ticks all the right boxes!
Ingredients
Instructions
Refrigerate coconut cream for at least 24 hours.
For the crust:

In a food processor pulse nuts until very fine. Add in almond flour, golden monk fruit and 1 cup shredded coconut. Blend until it's finely ground. Think crushed graham cracker consistency. Pour in melted butter or coconut oil. Blend until it starts to clump.
Press into a 9 inch deep pie plate. Bake at 350F for 10 minutes or until brown.
Remove from oven and let cool completely.
For the filling:

If using canned full fat coconut milk, separate the liquid from the hardened cream.
Next, beat coconut cream and powdered Swerve in a stand mixer until stiff. Gently fold in the remaining 1 cup of shredded coconut to the cream.
Spoon coconut mixture into the cooled pie crust. Refrigerate for at least two hours.
Garnish with toasted chipped coconut.
Nutrition Facts
Gluten Free Low Carb Coconut Pie
Serves: 8 Servings
Amount Per Serving 1 Slice
Calories
% Daily Value*
Total Fat

38.4

59.1%
Saturated Fat
0
Trans Fat
Cholesterol
0
Sodium
0
Total Carbohydrate

8

2.7%
Dietary Fiber

4.5

18%
Sugars
Protein

4.2
| | |
| --- | --- |
| Vitamin A | Vitamin C |
| Calcium | Iron |
* Percent Daily Values are based on a 2,000 calorie diet. Your daily values may be higher or lower depending on your calorie needs.
https://glutenfreedownhomecooking.com/2016/04/gluten-free-low-carb-coconut-pie/
Gluten Free Down Home Cooking
How to Make a Gluten Free Crumb Crust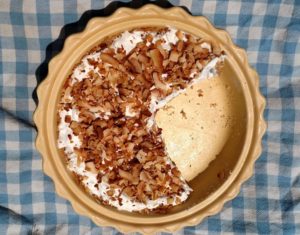 This crust is based on a recipe I saw in an old Kraft magazine that used crushed shortbread cookies, sweetened coconut, and nuts.
The shortbread cookies had to go, but I wasn't sure what to replace them with. I wanted to keep things simple. I finally decided to settle on using 1/4 cup almond flour in place of the cookies, and organic unsweetened shredded coconut in place of the sweetened coconut.
For sweetener, I used golden monk fruit because it gives the crust a more golden color and I find it doesn't have a funky aftertaste either.
Pulse the nuts in a food processor until fine. Add the sweetener, coconut, and almond flour. Blend until you have course crumbs. Add the butter or coconut oil and press into a 9 inch deep dish pie plate.
How to Make a Coconut Cream Pie Using Coconut Milk
Now, don't go buy a carton coconut milk in the refrigerator section of your grocery store because it won't work in this recipe. You have to use canned coconut milk that has no other ingredients other than coconut milk and water.
That's sometimes hard to find, and I've found pure coconut cream from Amazon works a lot better anyway because I don't have to drain off any liquid.
If you do used canned coconut milk, refrigerate for 24 hours. When you're ready to make your low carb coconut pie, open the can and scoop out the solid cream that's formed at the top of the can into the mixing bowl. Save the watery part for smoothies or popsicles.
Beat the cream from two cans and powdered Swerve into stiff peaks and follow the recipe as normal.
Liquid sweeteners, such as stevia glycerite or xylitol maple syrup can be used instead of Swerve. Granulated sweeteners do not work well in this recipe.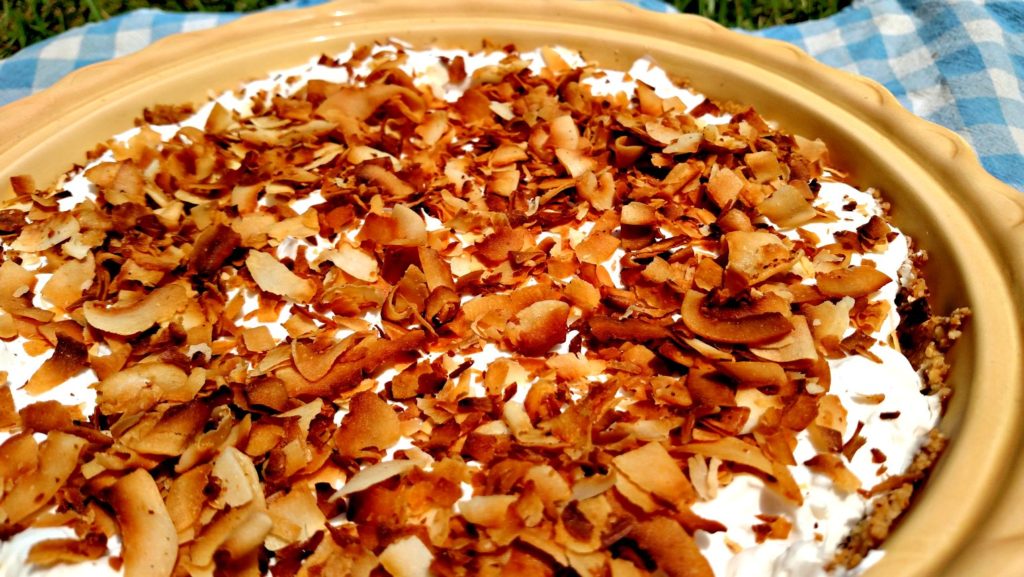 Easy Low Carb Desserts Don't Have to Be Complicated
One thing that's bugged me about baking since I went low carb is the complexity of a lot of the recipes. I just want to make desserts as quick as I used to make gluten and carb laden goodies. That's why I like this low carb coconut pie recipe. Quick, easy, and minimal ingredients.
If you looking for simple low carb goodies, take a look at my easy low carb desserts page. Our days are filled with work and family obligations, and at the end of the day baking shouldn't take up our precious family time.
NEED MORE GLUTEN FREE MEAL IDEAS? Click Here —>