I Just Want to Make Low Carb Hot Chocolate Taste Good!
Hot chocolate is my all-time favorite hot beverage. I'm not talking about the stuff you get in packets. I'm talking good, old fashioned homemade hot chocolate.
It's almost Christmas, and I'm starting to get the warm and fuzzies. I've been craving a good cup of hot cocoa, and I literally have tried every low carb hot chocolate recipe and low sugar hot chocolate recipe I've come across. I ended up throwing them all out because they've been too weak, not sweet enough, or just have had an off taste.
My favorite recipe used to be the one that was on the back of the Hershey's cocoa box, so at first I just tried to adapt it a bit to make it carb friendly. I tried to use alternative sweeteners in place of the sugar, but it was a no-go. It just didn't taste like hot cocoa is supposed to taste, ya know? It is really hard to make low carb hot chocolate taste good!
There were elements to each low carb hot chocolate recipe that I liked, so I kind of put them all together and made my own recipe. The results? OMG. Best low carb hot chocolate ever!
NEED MORE GLUTEN FREE MEAL IDEAS? CLICK HERE —>
How to Make Low Carb Hot Chocolate Taste Amazing!
I really hate the way that cocoa clumps when you put it in a liquid. In one recipe I tried, they mixed Torani sugar free syrup
with the cocoa before adding the coconut milk. It turned into a type of chocolate syrup and mixed right up into the milk. Another bonus, it's sugar free and I didn't have to use an additional sweetener.
To top off my homemade low carb hot chocolate recipe, I made whipped cream, sweetened with more Torani, with my immersion blender
. But you could also add low carb and sugar free LaNouba marshmallows
!
My Favorite Low Carb Hot Chocolate Recipe: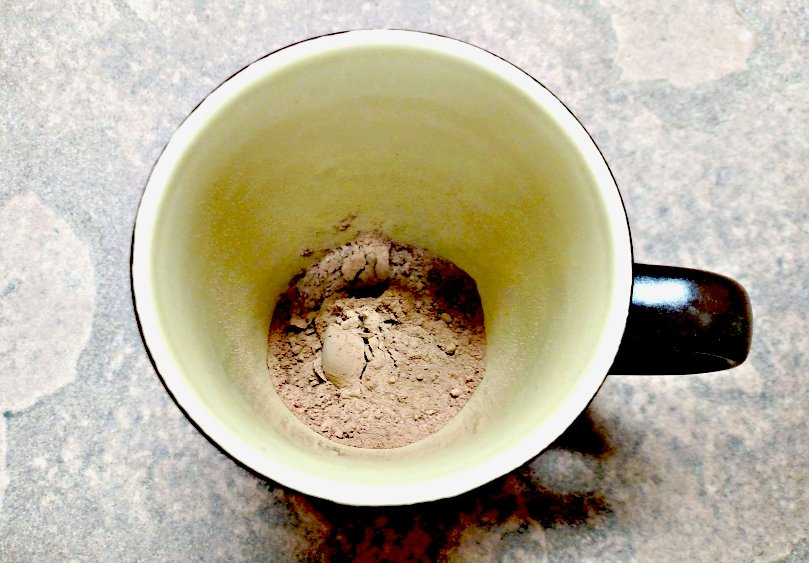 To make low carb hot chocolate, first I added 2 tbsp cocoa to a small coffee mug. You can use a fork to break up any clumps.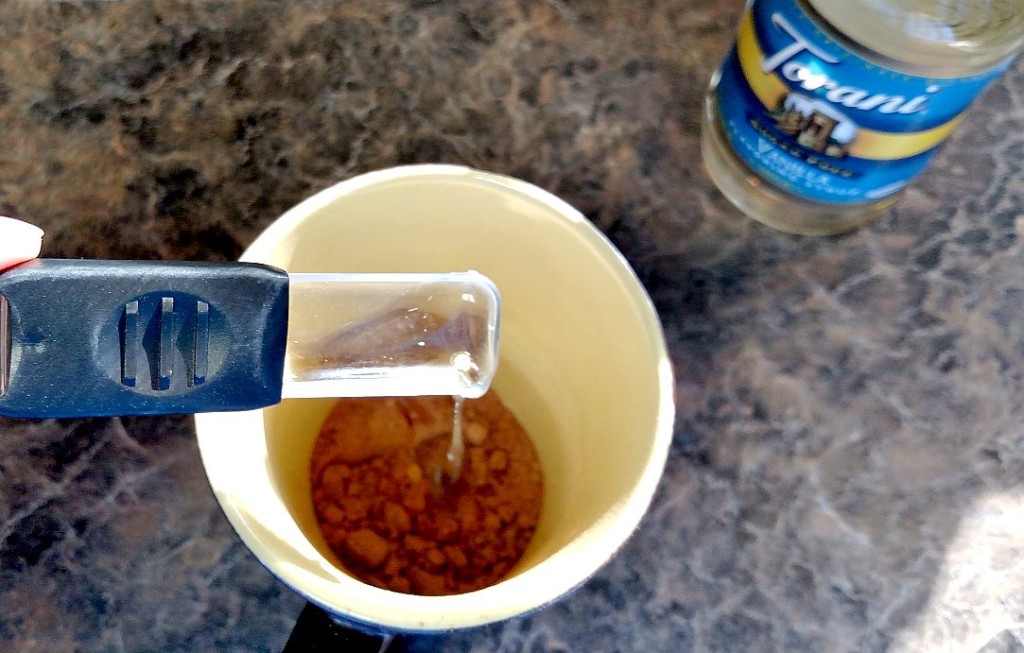 Since cocoa never gets quite mixed in with a liquid, I decided to eliminate that problem by adding 3 tbsp Torani vanilla syrup
. This stuff is awesome! I've heard of Torani, but never tried them until now. I really don't know how I've lived life in my low carb journey before now.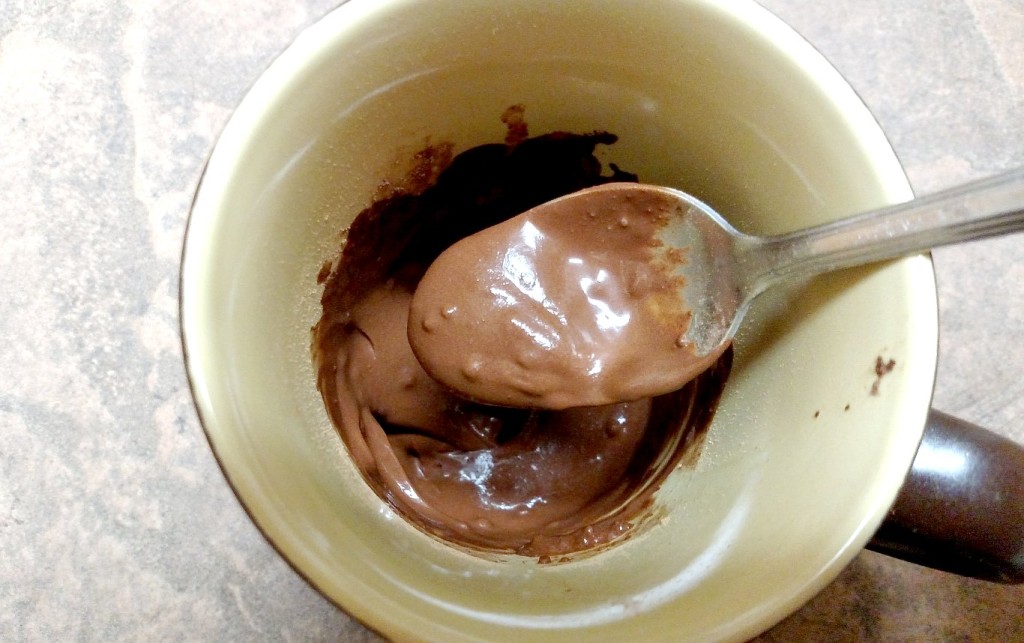 Now stir the cocoa and vanilla syrup together until it forms a smooth paste. It should be almost the consistency of melted chocolate. Be sure to break up all clumps and incorporate the cocoa fully. Set aside.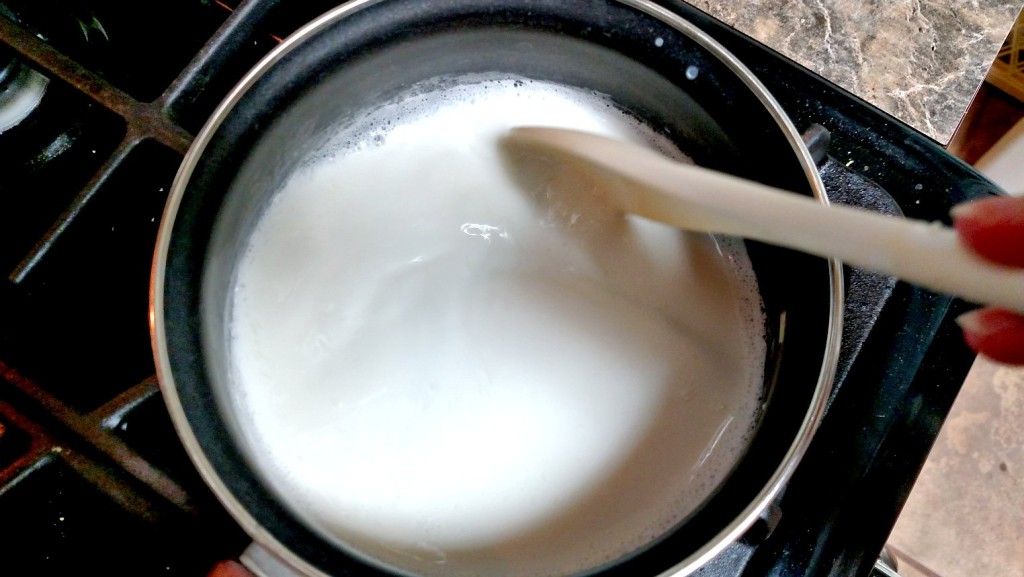 Now add one cup of coconut milk to a saucepan and heat on low. You can use almond milk, or even regular milk if you like, just keep in mind this will change the carb count a bit.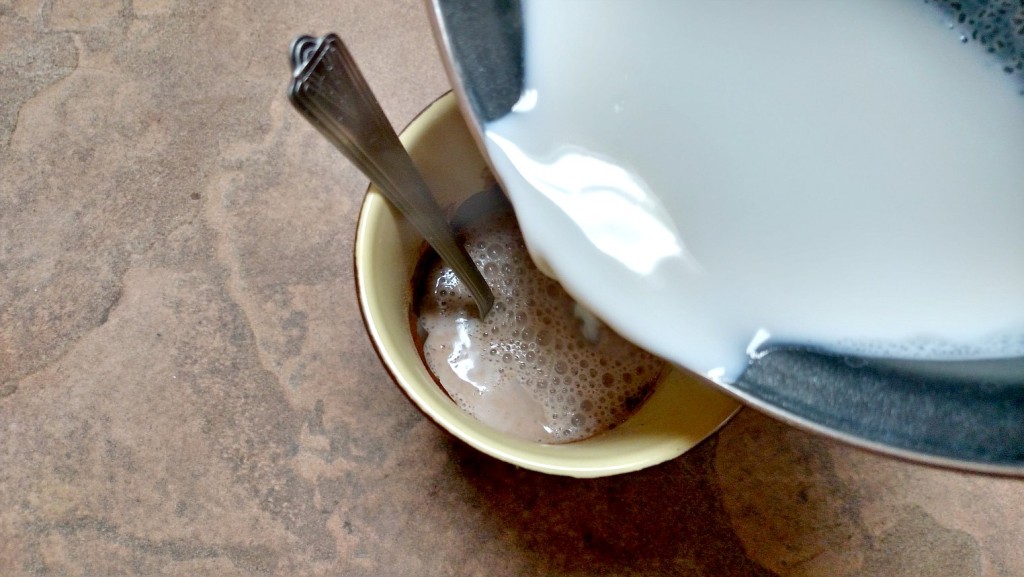 Pour hot milk into the cup with the chocolate mixture and stir well. Top with low carb LaNouba marshmallows
, or you can try my homemade whip cream recipe.
Homemade Whip Cream Recipe: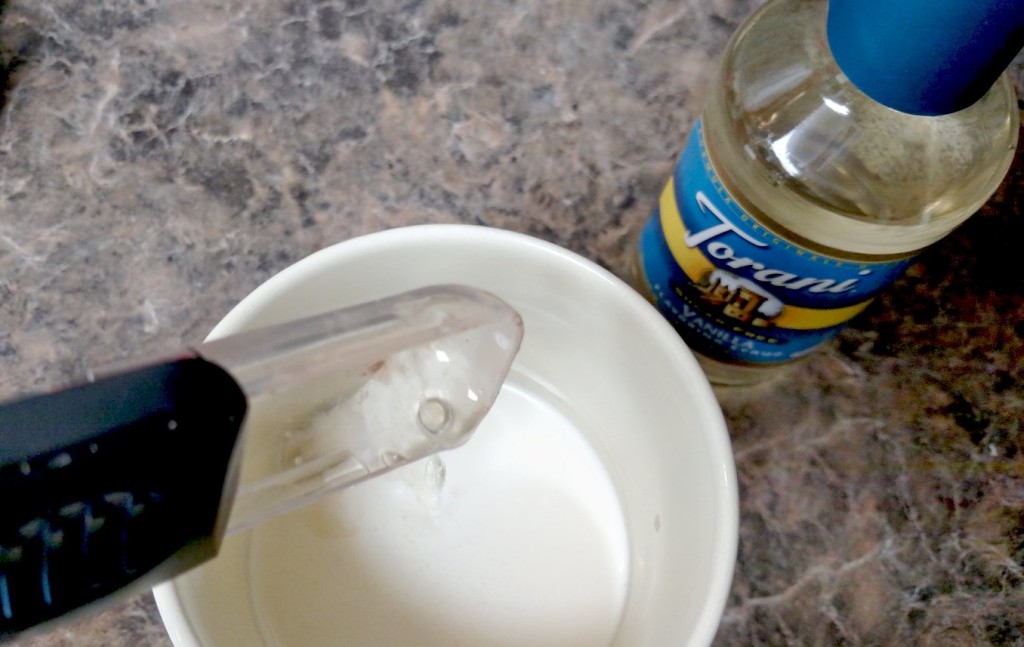 Add 1 tbsp Torani vanilla syrup to 1/2 cup heavy whipping cream in a small, high sided cup.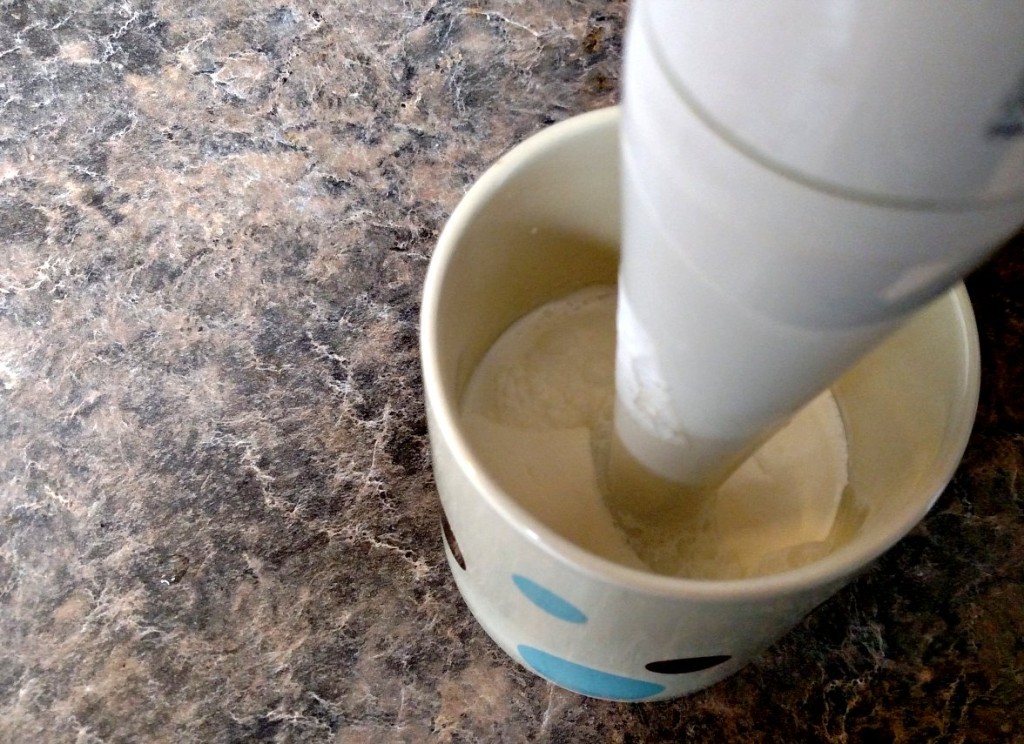 Use your immersion mixer
(it's a low carb cook's best friend!) and blend until thick and creamy, about 30 seconds.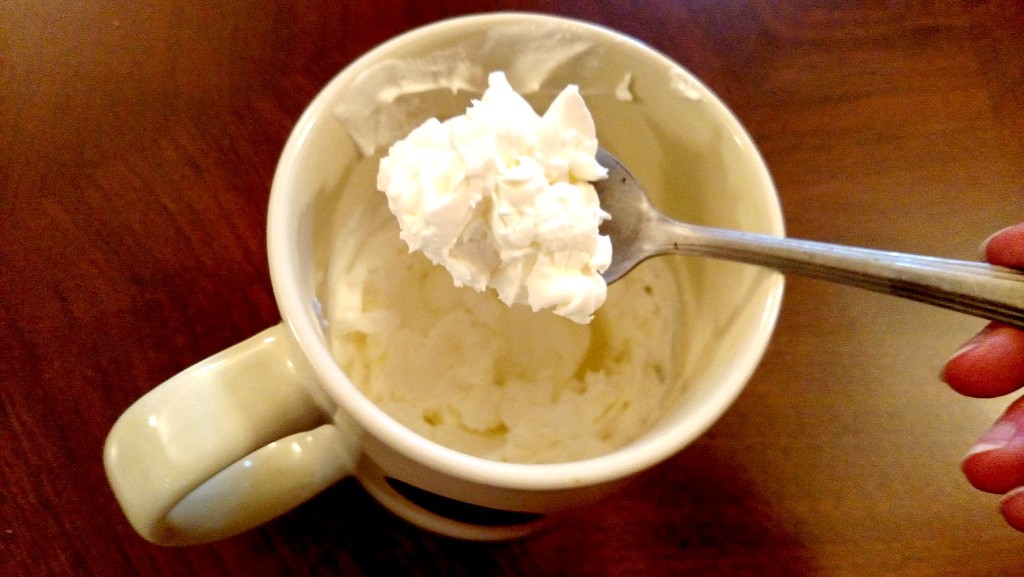 This is how it should look when you've beat it enough: Thick and creamy and luxurious homemade whipped cream! It is heavenly on your hot cocoa. Now you know how to make low carb hot chocolate!
Ingredients
1 cup coconut milk (or your milk of choice)
2 tbsp cocoa
For the Whipped Cream

1/2 cup whipping cream
Instructions
Mix the cocoa and the syrup in a medium sized mug until smooth. Be sure that there are no lumps.
Heat the milk on low heat until hot.
Pour the milk into the mug and mix well. Top with low carb marshmallows or whipped cream.
For the Whipped Cream

Using your immersion blender beat the cream and the syrup until stiff.
Nutrition Facts
The Best Way to Make Low Carb Hot Chocolate
Serves:
Amount Per Serving
Calories
% Daily Value*
Total Fat

2

3.1%
Saturated Fat
0
Trans Fat
Cholesterol
0
Sodium
0
Total Carbohydrate

1.5

0.5%
Dietary Fiber
0
Sugars
Protein
| | |
| --- | --- |
| Vitamin A | Vitamin C |
| Calcium | Iron |
* Percent Daily Values are based on a 2,000 calorie diet. Your daily values may be higher or lower depending on your calorie needs.
https://glutenfreedownhomecooking.com/2015/12/the-best-way-to-make-low-carb-hot-chocolate/
Gluten Free Down Home Cooking