Sugar Free Pecan Pralines, are you Even Possible?
Last month my husband and I spent a weekend in Savannah, Georgia. One of my favorite things to do there is take a stroll down River Street. I love to shop, what can I say?
I admit it, I was bad on my trip. Every shop that sold food was throwing free samples at me. And, hey, who am I to turn down free food?
Ok, I probably should have stayed out of the candy shops, because no low carb girl needs to step food in there. But my husband really wanted some candy, so I was a good wife and followed him in. 🙂
Well, they were handing out fresh pralines. OMG, it was so good.
I went through the line.
Twice.
Each of the three times I went through that shop.
I told you I was bad!
I wondered if I could make homemade low carb sugar free pecan pralines that tasted just as creamy and delicious as the ones I ate in Savannah?
Specialty Ingredients Needed to Make Sugar Free Pecan Pralines
Anatomy of Keto Sugar Free Pecan Pralines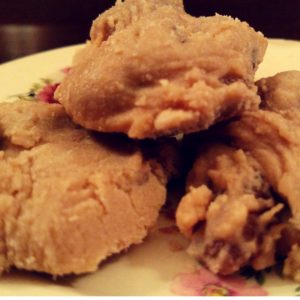 I think the blend of the natural sweeteners is what makes these pralines taste like traditional sugar-laden pralines. Natural sweeteners sometimes have an off flavor, but I found that combination of golden monkfruit and sukrin didn't.
I know a lot of bloggers swear by powdered Swerve, but the off taste and cooling effect is honestly disgusting to me. I refuse to make anything with Swerve. I've been using the sukrin melis as a substitute for powdered sugar. Oh my gosh, no cooling and no aftertaste!
You might be wondering what's in sukrin since you've probably never heard of it. Sukrin melis is just a erythritol and stevia blend.
I've been using the golden monkfruit as a substitute for brown sugar for a while now. It tastes just like brown sugar! Golden monkfruit also gives the pralines its signature brown color, too.
Traditional southern pecan pralines are made using a candy thermometer. I thought I would need one, too, and then I'm like, duh! My sweeteners don't have the same chemical properties of sugar. I was surprised I got a nice thick creamy consistency by essentially just reducing the mixture.
A word of warning, these are REALLY sweet. I can only eat one at a sitting, so if you are worried about overeating and ruining your carb count, I think you'll be good!
Pecan Pralines: The Perfect Low Carb Christmas Candy
BLC (before low carb) I always made some sort of Christmas candy every year. I've really missed my homemade candy during the Holidays.
This year I plan on making pecan pralines as a low carb Christmas candy. I will feel like I'm splurging, but at around 5 carbs a piece, I'll still be sticking to my keto diet!