Why Down Home Cooking is Considered Comfort Food
I think the reason why comfort food is called, well, comfort food, is because it takes you back to being a kid. If you were to start naming off different dishes, I could tell you who each one of those reminded me of. Cornbread stuffing reminds me of my grandma. Aunt Shirley makes an awesome apple pie. My Aunt Dorothy? Peas and dumplings. I could go on and on.
My momma could make some mean hamburger steaks with mushroom gravy from scratch. On the rare occasion that I got asked what it was I wanted her to fix for dinner, I'd always ask her to make homemade salisbury steak. With gravy, of course!
Comfort food has taken on a whole new meaning to me lately. I know comfort food is called comfort food becuase it's food you grew up on. But for me it reminds me of those powerful women in my family who are no longer with me. I haven't tasted my mother's cooking for years.
For the past three years, she suffered from a rare disease that causes dementia. One of the early clues to me there was something wrong was her cooking became inedible. I didn't know why at the time, but she had just plain forgotten how to cook. My mother passed away a few months ago, and it's made me miss all the everyday things about her, such as her cooking, even more.
Yes, Low Carb Salisbury Steak and Gravy can be Comfort Food!
That's why her salisbury steak and gravy was one of the dishes I decided to remake. It was a no big deal to make low carb salisbury steak. I just had to skip fillers like bread or cracker crumbs and I was good to go. The gravy was a different story. I've tried out a lot of gluten free gravy recipes, but not too many of them, frankly, tasted like it  was a keeper.
I've also tried several gluten free gravy mixes
. They were good, but sometimes you just want something homemade, ya know? I went on a personal quest to find the perfect homemade mushroom gravy recipe.
So I was thrilled when I was watching a cooking show one day, and I saw them make gravy by reducing cream. I'm like, voila! I can make me some gravy. Even better, I can make low carb gravy because whipping cream has zero carbs, and a whole lot of healthy fat.
I have been having an obscene love affair with mushrooms lately, and how can you NOT have salisbury steak without mushroom gravy? So I made sure this recipe is chock full of mushrooms. If you're not much of a fan, you can use less or leave them out altogether and you will still have an awesome low carb salisbury steak and homemade gluten free gravy.
Let's get to cooking!
NEED MORE GLUTEN FREE MEAL IDEAS? CLICK HERE —>
Low Carb Salisbury Steak and Mushroom Gravy from Scratch Recipe
First, patty out your hamburger. I didn't add anything to my meat, but you could add 1/2 cup chopped onion for extra flavor. Salt and pepper them as much as you'd like.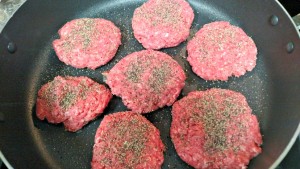 Cook your hamburger steaks until they're nearly done. Don't worry if they're not completely cooked, because we're going to put them back in the gravy to finish cooking.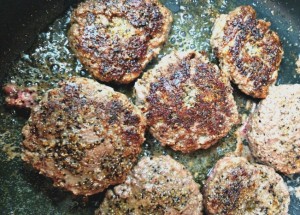 Remove the cooked hamburger patties to a plate and cover to keep warm. Pour out the hamburger grease, but don't get rid of the crispy, meaty bits. That's flavor that's sticking to your pan!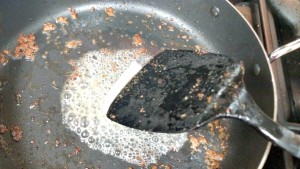 Melt butter, and add the onions and mushrooms.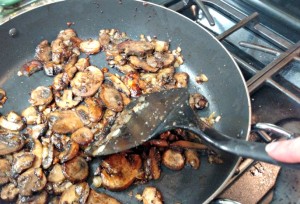 Cook them on medium heat, stirring occasionally, until they're golden brown and soft, about 20 minutes. It may seem like a long time, but it's waaaay worth it to use raw mushrooms instead of canned.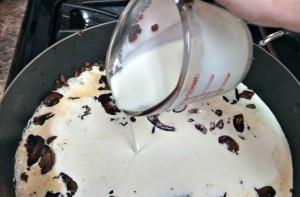 Add the whipping cream and stir off and on until it starts to thicken a bit, about 5 minutes.
Place the hamburger steaks back in the gravy and turn them over to coat. Simmer on low covered until the steaks are done and the gravy is thickened. Stir occasionally to keep it from burning. Serve with mashed cauliflower, or mashed potatoes if you're not worried about carbs.
Contains 7 carbs, 19g fat, and 3g protein per serving.